Panel 6
THE FUTURE IS NOW – BODY PSYCHOTHERAPY IN TRANSFORMATION
KATHRIN STAUFFER – panel Chair
THE IDENTIFY QUESTION FOR BODY PSYCHOTHERAPY – WHO WERE WE AND WHO ARE WE GOING TO BE?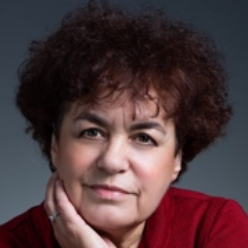 Kathrin Stauffer PhD is the author of two books: 'Emotional Neglect and the Adult in Therapy: Lifelong Consequences to a Lack of Early Attunement' (W.W. Norton 2020); and 'Anatomy & Physiology for Psychotherapists: Connecting Body & Soul' (W.W. Norton 2010).
She was born and educated in Switzerland. Originally a research biochemist, she retrained at the Chiron Centre for Body Psychotherapy in the 1990s. She lives in Cambridge, UK, and works in private practice as a body psychotherapist, EMDR practitioner, trainer and supervisor.
LIDY EVERSTEN
ETEL ADNAN'S MOUNT TAMALPAIS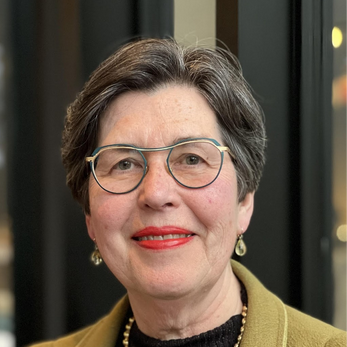 Lidy Evertsen is a Body Psychotherapist and has had her own practice since 1993.
The modalities she has trained in are Unitive Psychotherapy, Bodynamic Analysis and Bodynamic Trauma Therapy. Her work is also informed by Polyvagal theory.
Lidy specialised in working with dissociation, dissociative phenomena and DID. She is a trauma therapist, a trainer, supervisor and therapist for Body Psychotherapy students and practitioners. Lidy was EABP president from 2010-2016 and she is active in the development of the profession of Body Psychotherapy in EABP Think Tank and Continuous Congress Content Committee.
Lidy's first professional life was that of a professional classical singer and voice pedagogue.
Editor of the reader "Handbook Bioenergetic Analysis", published in German, English, Italian, Portuguese, French , Russian. She has a special interest in diagnostics, somatic resonance, psychosomatics, developmental trauma, self-care for therapists, bioenergetic work with the voice and body work with couples.
RAE JOHNSON
DECOLONIZING BODY PSYCHOTHERAPY
Rae Johnson, PhD, RSW, RSMT, BCC is a social worker, somatic movement therapist, and scholar/activist working at the intersections of embodiment and social justice. Rae's approach to body psychotherapy has been shaped by decades of frontline work with street youth, women in addiction recovery, psychiatric survivors, and members of the queer community. The author of several books, including Embodied Social Justice and Embodied Activism, they currently teach somatic psychology at the California Institute of Integral Studies and co-direct an online certificate program in embodied social justice.
LUISA BARBATO
HOW TO MANAGE THE MODERNITY DISORDERS WITH BP
Luisa Barbato is a certified Reichian body psychotherapist and a member of the Board as well as supervisor of SIAR (Italian Society of Reichian Analysis) since 1999.
She works as a body-psychotherapist in Rome in private and public Institutions with individual and groups therapies. In particular, she works with groups for the development of human potential, emotional release and integral awareness.
She is a member of the Board of AIPC (Italian Association of Body Psychotherapy).
Since 2017 she is the chair of the Executive Committee of the Forum of European accredited body-psychotherapy Training Institutes.
From 2010 to 2014 she was elected as a member of the Italian Board of Professional Association of Psychologists.
ADAM BAMBURY
WHAT CAN BODY PSYCHOTHERAPY BRING TO THE ONGOING 'PSYCHEDELIC RENAISSANCE'?
Adam Bambury is a relational body psychotherapist in private practice in south east London, UK.
He trained in relational body psychotherapy and psychotherapeutic deep bodywork. He has written for the IBPJ, is an EABP member and is on the steering group of the Body Psychotherapy Network (UK).
He is also a member of the UK-based Institute for Psychedelic Therapy and is participating in its inaugural two-year training course, finishing in December 2023. For several years he has offered psychedelic integration work to clients who are looking to further process and learn from their experiences with expanded states of consciousness.
ALEXANDRA ALGAFARI
A HUNGER FOR TOUCH IN A DIGITAL ERA – BODY PSYCHOTHERAPY AS A LONG-DISTANCE RELATIONSHIP
Alexandra Algafari is a second generation body psychotherapist. She has studied psychology in the UK and Spain and trained as a neo-reichian analytical psychotherapist in Bulgaria.
She now has her private practice in Sofia and is a member of the Board of Directors of the Bulgarian Neo-Reichian Psychotherapeutic Association.
She is a part of the editorial team of the International Body Psychotherapy Journal and a teaching assistant in Psychoanthropology, Psychodiagnostics, and Group Psychotherapy at the Bulgarian Institute for Neo-Reichian Analytical Psychotherapy.
Alexandra has a particular interest in working with anxiety, finding purpose, and teaching self-compassion and body-mind integration.
She is passionate about the use of social media in promoting mental health.