Panel 1
BODY & IDENTITY
MAURIZIO STUPIGGIA – panel Chair
THE BODY OF THE SUBJECT AND THE SUBJECT OF THE BODY
Prof. Maurizio Stupiggia, PhD is a body-psychotherapist experienced both in individual and group therapy. He is a trainer in a number European countries, Japan and South America. For more than 20 years, he has been working with survivors of major earthquakes and natural disasters in Japan. He has also worked for several years for the Italian Ministry of Health, in assisting the integration of immigrants. For the last 10 years he has been a supervisor for psychotherapists and educators, working with female immigrants from Africa who are refugees of war and victims of the various traumatic abuse. He co-founded The International School of Biosystemic and The Bio-Integral Institute of Body Psychotherapy in Tokyo, with Jerome Liss and Rubens Kignel, respectively. He is the author of three books, published in Italian and translated in other languages: "La terapia biosistemica", "Il corpo violato" and "Dalla sofferenza all'emozione". In collaboration with other authors, he published "Il benessere nelle emozioni" (2009), and "Biosistemica, la scienza che unisce" (2015), and several articles.
CARMEN JOANNE ABLACK
EMBODIED PROCESS IN THE MOMENT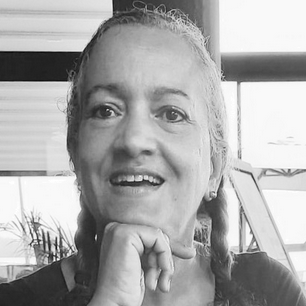 Carmen Joanne Ablack works with embodied relational awareness and attention to embodied intercultural ground in the relationship. She practices as a Relational Body Psychotherapist and Gestalt Individual and Group Psychotherapist, training others in the UK and various countries in Europe. She has written a number of chapters and articles and is also a recognised supervisor for couples counselling, individual and group work.
WILL DAVIS
IDENTITY, FUNCTIONAL IDENTITY & THE ENDO SELF
Will Davis is an American psychotherapist with over 45 years of experience. He has a psychology degree and was trained in neo-reichian Radix work, encounter groups, Gestalt Therapy and in various alternative healing methods. In the past 40 years, he has been practicing and training throughout Europe and before that worked in North America and Japan.
He developed the gentle connective tissue-based somatic release technique of Points & Positions and combines that with a unique synthesis of verbal therapy. He offers trainings in Functional Analysis Body Oriented Psychotherapy, based on the self-organizing and creative movement of the instroke of the pulsation. His book, articles and publications in professional journals are available in the "Articles" section of his website: www.functionalanalysis.org. Various articles are available in English, German, Italian, French, Albanian and Bulgarian.
He is a member of: the International Advisory Board for the Journal of Energy and Character, the Scientific Committee of the Italian Society of Psychologists and Psychiatrists, the European Association of Body Psychotherapy, the European Association of Psychotherapy and the Editorial Board of International Journal of Body Psychotherapy. He has also taught as a guest trainer.
ROBERTA ROSIN
BODILY IDENTITY AND ITS TRANSFORMATION IN TRANSGENDER MINORS
Roberta Rosin Functional Psychologist Psychoterapist. Trainer and Supervisor of European School of Functional Psychotherapy (S.E.F.). Trainer for public and private organisations. Expert in gender discrimination, President of the Con-Te-Stare Association, ActiveTransgender Counter (Centro O.N.I.G. Padua, Italy). She has actively participated in National and International EPATH and WPATH Conferences. Conducted workshops at EABP and AIPC Congresses. He has published "Alla ricerca di Hansel e Gretel. Come valorizzare le diversità e funzionamenti di genere" (2012) (Looking for Hansel and Gretel. How to value gender diversity and functioning); "7D. Sette donne, sette vite, sette possibilità" (2014) (7D. Seven women, seven lives, seven possibilities); "Sconvolti. Viaggio nella realtà transgender" (2017) (Upset. Journey into transgender reality); "Spunti di vista" (2019) (Viewpoints); "Io non sono Trans" (2023) (I am not trans).
ERIK JARLNAES
You need to develop a healthy sense of your body before you can even dream of a healthy identity.
Erik Jarlnaes is the founder and a trainer at Bodynamic International. He is also the founder of Life Quality and Peak Experience Institute and a member of the European Association for Body Psychotherapy since 1990.
His nuanced approach to teaching these exercises (not just using them) equips the therapist, in turn, to assist their clients in developing and integrating new resources by anchoring their insights into a deeply embodied experience.
His book, "50 Exercises for Life Quality" is near completion and will be available at the time of the conference.