Peripheral events during the Congress Program – Activities
Start your daily program by dedicating half an hour to the relationship between you and your body.
In a beautiful space with view to Acropolis, on the 10th floor of the TITANIA hotel, four of our colleagues will undertake the activation and increase of your energy and vitality. Don't miss it!!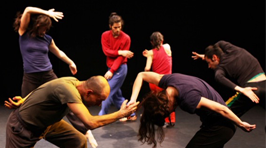 During time intervals between different speakers there will be ten minute warm ups and strechings for either activation or relaxing. These will give the mark of our Congress, which as a Body Psychotherapy Congress, gives particular emphasis on body presence and its active participation to the procedure.
Congress volunteers have already started working on the warm up program and together with all the enthusiasm and freshness they afford have expressed their intention to give their own colour to speeches.
We invite you to attend the Greek dances course which will take place on Friday 14th October 18.00-19.30 and which will give you the ability to actively participate to the circular dances on Saturday evening after the formal dinner.
Circular dances comprise an authentic experience of the Greek tradition which nurtures the community feeling and gives joy.
Through a short and concise introduction, the Chair of the Congress Organization Committee Sophia Petridou together with Vicky Dimitraki colleague from the Artistic Committee will slightly refer to the psychotherapeutic dimension of this tradition and its relation to other traditional Body Therapies.
---