Keynote Speakers
Questions and Answers session
Professor Porges will be responding to and discussing selected questions and short anonymised case scenarios sent in by participants beforehand. Stephen will respond to and also discuss some of the issues raised with Italian colleague and EABP member, Dr. Genovino Ferri, Psychiatrist and Body Psychotherapist.
Dr. Stephen W. Porges is a distinguished university scientist at Indiana University, where he is the founding director of the Traumatic Stress Research Consortium. He is also a professor of psychiatry at the University of North Carolina and professor emeritus at the University of Illinois at Chicago and the University of Maryland. His more than 350 peer‐reviewed scientific papers, published across several disciplines, have been cited in approximately 40,000 peer-reviewed papers. He holds several patents involved in monitoring and regulating autonomic state and originated the Polyvagal Theory, which emphasizes the importance of physiological state in the expression of behavioral, mental, and health problems related to traumatic experiences. He is the author of The Polyvagal Theory: Neurophysiological foundations of Emotions, Attachment, Communication, and Self-Regulation, The Pocket Guide to the Polyvagal Theory: The Transformative Power of Feeling Safe, and Polyvagal Safety, as well as co-editor of Clinical Applications of the Polyvagal Theory: The Emergence of Polyvagal-Informed Therapies, and Polyvagal Safety.
No Sense, No sensations: Working with Early Neglect
Insufficient attunement by early caregivers during the attachment period constitutes emotional neglect and leads to developmental deficits. These manifest especially in a person's social engagement system which is important for feelings of being connected to humanity and leading a meaningful life. Experiences of life as empty drudgery ('no sense') are therefore typical for survivors of early emotional neglect, as are states of being numbed out or unable to connect words and feelings ('no sensation'). Psychotherapy with clients who were neglected requires compassion and a delicate touch. I will discuss some body psychotherapeutic approaches from my own practice that seem promising.
Kathrin Stauffer PhD, Body Psychotherapist (UKCP), is the author of two books: 'Emotional Neglect and the Adult in Therapy: Lifelong Consequences to a Lack of Early Attunement' (W.W. Norton 2020) and 'Anatomy & Physiology for Psychotherapists: Connecting Body & Soul' (W.W. Norton 2010). Kathrin is known to EABP members as the organiser of the 2012 Cambridge Congress and Chair of the COUNCIL. She lives in Cambridge and works in private practice. www.stauffer.co.uk
Coming to our senses – the music of our bodies
We learn to sense our bodies and develop a coherent sense of self through the responses of our primary caregivers. The primary vessels of learning to sense are touch, synchronization, eye contact and imitation – feelings, and much later, words develop on this foundation. In this presentation, Marianne will give an overview of the interpersonal and brain-body interactions that develop our capacity for body sensations and their integration in our sense of self. She will illustrate the theory with small exercises and case descriptions.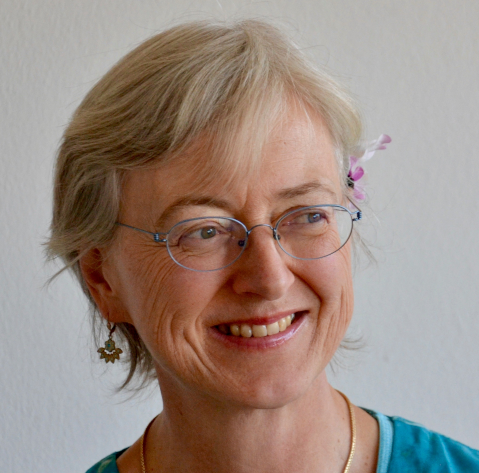 Marianne Bentzen is a somatic psychotherapist and author who has worked with clients and taught mental health professionals internationally since 1982. She has presented at more than forty international and national conferences and written numerous articles and books. Since the early 1990s, she has developed Neuroaffective Developmental Psychology (NADP) as well as emotional training programs and assessment tools with her friend and colleague, psychologist Susan Hart. A long-time meditator, she also uses her meditative practice as a resource in fine-tuning professional approaches to mental illness, emotional intelligence in caregivers and personal development