Auditorium – Presentation 8 16 October (09:30 – 11:00)
Round Table: "The concept of Energy in the process of Embodiment: An interdisciplinary approach"
by Antigone Oreopoulou, François Lewin, Kostas Tsitinidis and Panagiotis Stambolis
Moderator: Panagiotis Stambolis
Embodiment: energy in-formation, trans-formation and communication from the cellular level to the therapeutic relationship
Between client and therapist, there is a constant flow of information with the form of thoughts, feelings, body movements, pulsations, cognitions and energy release. This flow and exchange is transformed to a new life equilibrium for the client.
The process is similar to the cell function: it constantly processes information, metabolizes it and transforms it into different forms of energy and matter, always striving towards an equilibrium.
In this discussion, we will unify the similar evolving process of cellular and therapeutic functions, and analyze their interactions.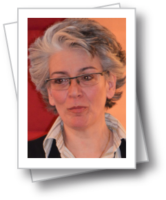 Antigone Oreopoulou
She studied Biology (B.Sc.,), Nutrition (M.Sc.) and Psychology (M.A.), is trained on biosynthesis, supervision, therapeutic hypnosis, trauma therapy, EMDR, reiki, pranic healing and bioenergetics. She has written books on parenting. She works on parenthood (from conception to the end of puberty, focused on body and energy). She trains health professionals, in Greece and abroad, to help them to incorporate body and energy in their daily routine and protocols.
Come back to transcendance
As Wilhelm Reich's heirs, it is odd that we conceal energy to be organicists, and that we look into neurosciences to shed light on the mysteries of the psyche.
We inverted "the function creates the organ" and ended up with "the organic determines the functioning".
Why did we give up on such a concrete, rich and wide concept? A long historical process led to that amputation of Western thought. Beginning with the Age of Enlightenment, modern thought imposed on us a materialistic vision, cut off from the transcendant.
By thus taking the "modern path", we remain prisoners of the source of "neurasthenia" that was described at the end of the 19th century and that Freud called "neurosis".
To know that history, and to get over it, are significant challenges for psychotherapy in the present times of major changes, because the quest for meaning is strong and the answers necessary.
François Lewin
Body psychotherapist in Biodynamic Psychology, Co-director of french Biodynamic School, international trainer, speaker and supervisor in Biodynamic Psychology (Europe, Latin America and Japan). Master of Physics and Mathematics. He was experimenting some shamanistic knowledge from Africa and South America. He tries to include in his paradigme, experience, science and mistery. Author of La Psychologie Biodynamique, une thérapie qui donne la parole au corps (ed Le courrier du Livre).
Email address: fr.lew@orange.fr
Homeopathy and vital force (energy)
In accordance with Fritz Albert Popp and his theory (biophotons) as well as Lyc Montagnier's experiments with DNA and teletransportation of an electromagnetic signal to pure water, our science (Homeopathy) is full of energy themes like vital force etc. The central disturbance in Homeopathy is energetic in nature and disorganizes centrally the vital force of the organism. Only if we manage to restore the energy field to the precious healthy frequency, we can cure radically and in depth. Other wise there is only topical improvement for a while and return to a continuous eversion vicious cycle.
Kostas Tsitinidis
K. Tsitinidis was born in 1962 in Veria, Greece. He studied Medicine (Thessaloniki) in 1980-1986 and served as a Physician at the Hellenic Air Force for 27 consecutive years. He completed the specialty of Radiology (Athens) and received post-graduate studies in Neuroradiology (MRA-CT) in UCSF (1996) – San Francisco. He served as Registrar and Director of Computed Tomography at the 251 GHA. Since 1980, he studies Homeopathic Medicine, initially having as Teacher Aristarchos Tsanaslidis and then George Vithoulkas. He worked for several years (1990 – 2002) at the Athens Homeopathy Center, at Marousi (Vithoulka's Center). Since 1998, he is at the Board of the Greek Society of Homeopathic Medicine where he holds the position of the President since 2003. Moreover, the last 6 years he is a Research Associate of the Aegean University (Syros – Ermoupoli) at the Master of Classical Homeopathy and Holistic Systems. Today, he manages a private practice in N. Psychiko – Athens in collaboration with other Homeopathic Physicians.
The importance of quantum perspective, verticality, resonance and consciousness in embodiment
Quantum theory and clinical practice confirm that our concepts and way of perceiving phenomena, therefore the relationship and the client/other, influence immensely the interactive process, so does awareness and perception of emotion/energy/flow as a constant variant in the relationship and in the bodies of client and therapist.
Existence of various energies and energy fields permeating living organisms has been confirmed from the archaic therapeutic traditions to contemporary research.
Energy and resonance as a function of energy/consciousness in various forms, connects vertically all functional horizontal levels, from quantum to subatomic…atomic… biochemical… bioelectric… cellular.. histological … organismic, to mental and psychic, to relational and systemic.
Embodiment, isn't in the end embodiment of energy and consciousness? And cellular consciousness, isn't it connected vertically with the individual's consciousness?
Panagiotis Stambolis
Trainer and supervisor at the Athens CAV(Character Analytic Vegetotherapy) school, studied Mathematics at the Athens University. Also trained in CAV, Gestalt, Bodynamic Analysis and Systemic Constellation (co-founder of Systemic integration process), he has been also studying among others, for his own interest, traditional Tibetan physical therapies, and traditional Andean therapeutic Methods.
Chair of the Congress and the Congress Content Scientific Committee
---